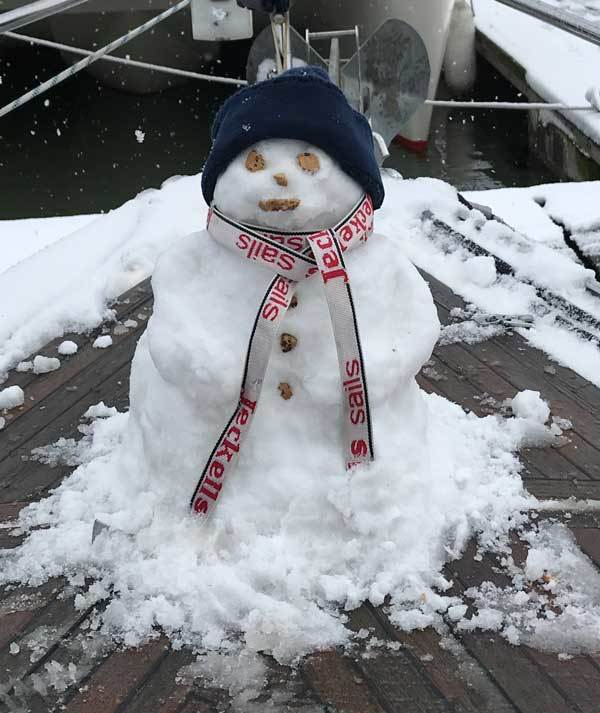 Frostbite Rally - East Cowes March 17/18 2018
Published 00:00 on 25 Mar 2018
The Frostbite Rally in 2018 lived up to its name!
There were originally 19 boats and 38 people booked on the rally, however the weather had other ideas.

The forecast was for snow and strong winds over the weekend particularly on Sunday. This was enough to make most people cancel so by the Friday evening, the rally was down to only 6 boats with 4 planning to make the crossing on the Saturday morning.
For the two boats, Misty Moon and Nordlys, who travelled to East Cowes on the Friday, they were treated to a great sail, clear skies and a beam wind. By the Saturday morning the clouds and winds had arrived. The wind increased to F5-6 but with the tide behind them, Nemo and Fruitbat had a great sail and arrived by lunchtime. Unfortunately, Sancerre had to cancel due to the weather and Princess Tasha had engine problems that prevented them leaving Haslar - the cruise was now down to 4 boats and 8 people!

In the afternoon, Brian Masters had arranged a trip around Cowes Lifeboat Station. This proved very interesting for the 7 people who attended while Jem preferred to watch the Rugby!
The drop in numbers caused problems for the Folly ferry that had been booked, although they were very understanding given the weather. They transported us in a wind and snow swept boat with ice on the seats to the Royal London Yacht Club for our evening meal. The drop in numbers also caused significant menu and catering problems for the Royal London Yacht Club, however they were pleased to see us there given the weather. The 8 remaining people were welcomed with a drink and had a wonderful meal in a beautiful room with a log fire burning. They were given a guided tour of the RLYC showing the dining room, the ball room, the garden and the lounge with a great view across the Solent.
The remaining 8 then returned in light snow to their boats. Everyone agreed it was a great evening that they didn't want to end, so most returned to Nemo for a night cap.
On Sunday morning, we awoke to a couple of inches of snow. Julie, on Nemo, felt they needed an extra crew member, so she built a snowman on the foredeck. I am not sure how competent he was!
Nemo and Fruitbat returned to Haslar on the Sunday morning and had a bouncy but safe journey back. Misty Moon and Nordlys decided to return on Monday.
Everyone agreed that it had been a great weekend and a first for a Haslar Rally to have snow!
To see more pictures of this event look in the photo gallery.

Brian Masters
Related
Last updated 10:20 on 2 November 2021