Round the Island Cruise - 1 September 2021
Published 00:00 on 1 Sep 2021
The idea for this event came from our good friend and frequent crew member Julie who many of you know from various rallies over the years. Julie said she has always wanted to sail around the Island in a day, something I had done a couple of times in the Round The Island Race whilst crewing for Jonathan Clare on Blue Moon. I thought it would be good to tackle this on our boat Nemo, in non-race conditions of course, and a few discussions during the HYC rally in Chichester convinced me that it should appeal to other HYC members. It was to be a "sailing in company" event which is a little unusual for Haslar Yacht Club and all the better for that.
Jonathan advised me that the ideal conditions were at Neaps so a date was set for Wednesday 1st September and the event was duly posted on the website with the strong emphasis that this was not a race! There were not too many people registered in the weeks leading up to the event as most people were keeping a close eye on the weather but on the day 6 boats competed, I mean took part!
Ann, Julie and I sailed Nemo from her berth in Ocean Village to Haslar the day before as an early start was called for in order to catch the tide through The Needles. The "start" was an imaginary line between Gilkicker Point and Ryde Spire and the "finish" was as we passed No.4 Bar Buoy on the way back into Portsmouth Harbour. As this is the start of the Small Boat Channel we would have to turn the engine on then so this all worked fine. The idea is that each skipper made a note of their own time and then we could compare notes in the evening over dinner on the Lightship - but of course it wasn't a race!
Those who set off (in no particular order) were:
Dennis Pearce on Dreamcatcher of Hamble
Jem Nicholls on Nemo
Colin Eales on Dream Odyssey
Jonathan Clare on Blue Moon of Haslar
Mark Ryland on Sukha
Grahame Solway on Sentosa
We got up very early and motored down to the 'start line' and spotted Dreamcatcher going out at the same time. She soon pulled ahead of us and a while later tacked further north so she could "pop the kite" and her spinnaker did look most impressive. Nemo does not sport such luxuries and we had to make do with gull winging including running a preventer on the main. We had practised poling out the foresail a few weeks previously but decided that we didn't have enough crew to try this as the pole has to be handled well to avoid injury. Besides, it wasn't a race!
After taking a very cautious line past The Needles we enjoyed the run down to St Catherine's Point with Dream Odyssey and Blue Moon catching up and passing us and it was fun to sail in the company of others.
Invariably, when you try to sail around The Island in a day there is one leg where the wind is not in your favour and on this day it was the stretch from St Catherine's Point to Bembridge. The wind was from the NE and that was, of course, precisely where we had to go so it was a slog. There were times when it seemed like every tack we made was almost 180 degrees and the crew's spirits were dropping. At one point when we seemed to be making very slow progress the ladies said "Jem, we need a plan" so I replied "Well, we have a choice: we can either throw the towel in and put the engine on or try 2 more tacks and see if we can trim the sails better to make some progress." The cross look on Julie's face said it all; Julie is super competitive. "We are NOT throwing the towel in!" she said so that was that. We tacked back and forth across Sandown Bay chasing after Sukha as we went.
Somewhere across Sandown Bay I had a sad message from Shirley and Colin on Dream Odyssey saying "Hi Jem, it got a bit rough off St Catherine's Point and the dog has become unwell so we are pulling into Whitecliff Bay. Hope to make it back for this evening but if not hope everyone has a good time and thanks for organising today." Oh, poor little hound! I do hope it recovered quickly. On a personal note, I do love to see children and dogs on board boats. Involve the whole family I say.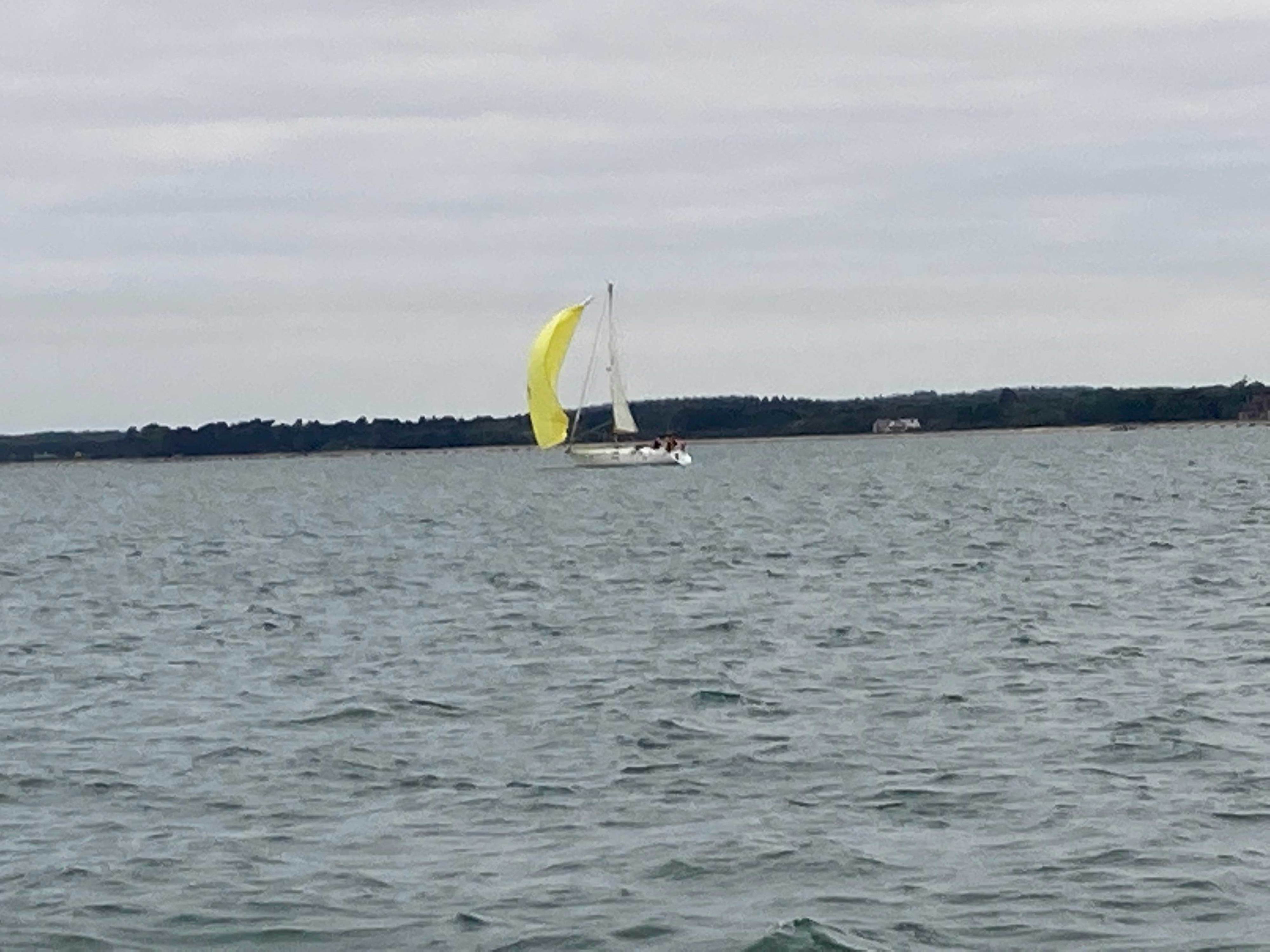 As we approached W. Princessa I got a message that Sentosa was behind us and catching up. We were definitely heading for the slowest time of the day but we hadn't quit! Sentosa came up fast behind us. With her foresail down. And her engine on. No wonder they were beating us! It was quite funny really and of course we all had a laugh over it at dinner that night where Grahame explained "Jem, it wasn't a race and as Phil and I rounded St. Catherine's Point we decided we just wanted to have fun without all that hard work of tacking back and forth. Life's too short!" and I thought that was a good example of how much fun we all had.
The fastest time recorded was 9 hours 10 minutes, and other times 9:20 and 9:30 with me a long way behind at 11:15. It wouldn't be in the spirit of things to put names to those times because the main thing was to have fun, sail in company and enjoy the day. The evening meal that night in The Lightship was made even more enjoyable as we were joined by people who had intended to sail but had to drop out for whatever reason.
We'll definitely do it again.
To see more pictures of this event, look in the photo gallery.

Jem Nicholls
---
The following log was also received with a chart of the track taken in the photo gallery.

Jem,
Many thanks for organizing this event we really appreciate it and very much enjoyed participating
We managed a good time crossing the start line at 7 am exactly and passing the No 4 buoy at 4:25 pm so just under 9 and a half hours
The sailing conditions were pretty much ideal
We logged 56.5 miles through the water
The outbound leg to Needles was very fast we were able to use Gennaker and reached the Needles in 2 hrs 40 mins from start line

Thanks again and best regards
Mark
07515 999190
Sukha
Regina 25 Berth D38 Haslar

Last updated 14:32 on 11 November 2021