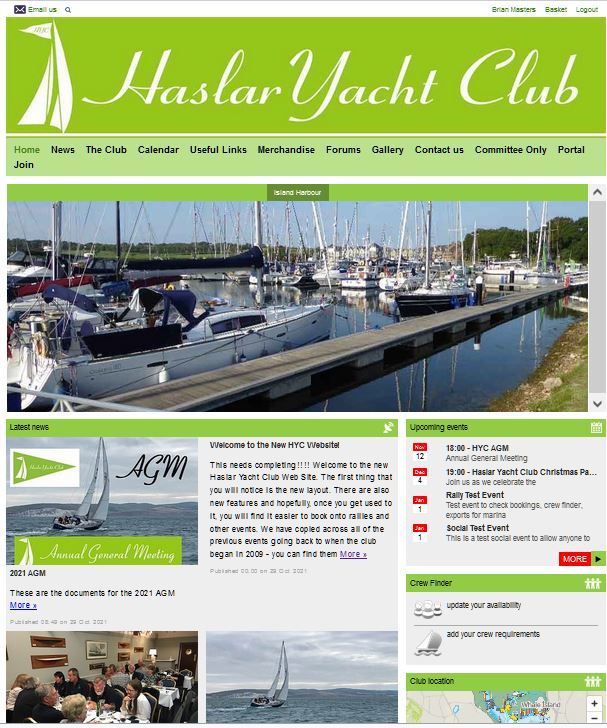 Welcome to the New HYC Website!
Published 00:00 on 22 Nov 2021
The first thing that you will notice is the new layout. There are a number of new features and hopefully, once you get used to it, you will find it easier to book onto rallies and other events. We have copied across all of the previous events going back to when the club began in 2009 - you can find them in the 'Events' tab. We have also copied across all of the event reports that went with them. These can be found in the 'News' section - they make interesting reading!
New Features
New 'Home Page' including photos from past events, News Items, upcoming events, a 'crew finder' and the latest weather.
'News' items including event reports, announcements and articles.
Easier booking on events. You can now easily add your crew members. You can also add people later or cancel your booking if it is a 'free' event.
'Events' function to look forward and backward at events.
A search facility (magnifying glass - top left hand corner) to search for articles e.g. 'Ahoy' or 'Gins Farm' or the name of your boat!
Easy access to purchase HYC merchandise - currently the HYC burgee or tie.
Crew finder where you can look for crew or offer yourself to crew for other people.
A 'portal' to make it easier for you to see your data, update it, book events and do many more things - see below.
A 'join' button to allow new people to easily join the club.
A new invoicing and payments system.
A new email system and differently formatted emails.
A new 'emergency contacts' field available to the committee in case there was an emergency with one of our members.
Events View
This gives you view of events for that month. You can look at the past as well as the future.
If you choose the 'Upcoming events' link you will see a list of upcoming events. If you see the word 'book' on the right hand side, you can book on this event.
The Club
- who we are and what we do.
Useful Links
- providing links to useful websites for safety information, weather, Solent specific data and much more - have a look.

Discussion Forums
- the previous ones have been copied across - why not read them and create new discussions? This has been enhanced so that you can comment on web pages, including this one!
Your data
All of your membership and boat data has been copied across into the new site. Once you login, please check your data to ensure that it is correct and set your preferences. Your boat data is visible to other members but the default is that your personal data remains private. We believe it would be great if members uploaded pictures of themselves and made their mobile telephone numbers visible to other members. This is up to you, but we believe it will help those of us who have difficulty with names, to avoid embarrassment. The committee have made their pictures and mobile numbers visible.
Logging in
This gives you access to much more information and allows you to book on events, modify your data, decide what is visible to other members club members etc.
To log in, click the word 'Login' in the top right hand corner. You will use your existing email address. For the first use, you will have to use the 'forgot password' feature to set your password on the new system.
Once you 'login', you will be taken straight to the 'portal' page (this is not visible until you login).
Portal
Once you have 'logged in', this is your personal view of all of your information. In the portal page, you have a lot of options on the right hand side

Home - brings you back to the portal home page.
Crew - You can offer to crew for others or look for crew for yourself for an upcoming rally.
Member directory - a view of all members visible as a grid or list view.
Boat Directory - a view of all boats in the club.

My profile - allowing you to update your information. It would be helpful if you uploaded a picture of yourself and made your email address and mobile visible to members.

Messages - where you can see messages that have been sent to you within the club.

My Availability - if you wish to make yourself available to crew for other people.

My boats - You can manage your boat(s), upload pictures and add info about your boat.
Bookings - you can see what bookings you have made and make new ones.
Membership - see your data and update your crew's data.
Renew your membership.
Forum Posts - where you can see posts that you have made to forums. (Posts you have made on previous web site will not be visible here.)
Invoices - look at invoices e.g. membership renewals or chargeable tickets for events.
Update login details - to change your password.
Booking on Event
Booking on Rallies
Once you are logged in, you can book via the upcoming events list on the home page or on the Events tab. To book on a rally, you need to have two types of tickets - one for the Skipper (i.e for the boat), and one for each member of the crew (excluding the skipper). You can look at your existing booking on the portal page. Note, you can always add crew members later, assuming there are still crew places available (limited by the number of places in the restaurant). If you decide not to go, remember to cancel the crew members as well as the skipper!

Booking on Social Events
To book on a social event, you need one ticket for each person. If there is a charge, there may be different value tickets for members and guests depending on the event.
'Join'
This is where new members can join or where you can add new members to your membership.

Last updated 07:58 on 21 April 2022